In 2001, Steve Jobs with the memorable slogan "1000 songs in your pocket" presented the first model of the iPod. Today, similarly, this is what we can say about podcasts, which stormed our smartphones and attention for long hours of listening. Although the first podcasts were created 15 years ago, only technological acceleration, unlimited and quick access to programs from almost every area of life and new habits of consumers, such as the desire to relax from screens and the need to acquire information in a more convenient way, allowed their development and anchoring in our daily lives, just like streaming music or movies. Although podcasts are still a new medium in Poland, we should not marginalize their presence, especially since their popularity is growing every month and will definitely not disappear from our market soon.
Signals of change: The world
According to the latest Mary Meeker report 'Internet Trends 2019' in 2018 in the USA about 70 million Internet users systematically listened to podcasts (22 million in 2008), and this number is expected to double over the next four years (see chart below). Giants from Silicon Valley are fighting for the largest share in the podcast market. Apple and Google have their own streaming platforms. The first of them recently announced large investments in original podcasts, exclusively available on his platform. There are also held extensive talks with creators who, with their publications and image, would contribute to Apple's unique library of podcasts. However, Swedish Spotify seems to be ahead of everyone. A streaming tycoon based in Stockholm for $ 200 million bought a famous New York studio producing recognized podcasts, Gimlet Media. The Swedes also did something that none of the four GAFA (Google Amazon Facebook Apple) did – they signed an exclusive agreement with the Obama family. Barrack and Michelle will record their own original podcast series in cooperation with the Spotify platform. Daniel Ek, CEO of Spotify, recently admitted that in 2019 20% of auditions are podcasts.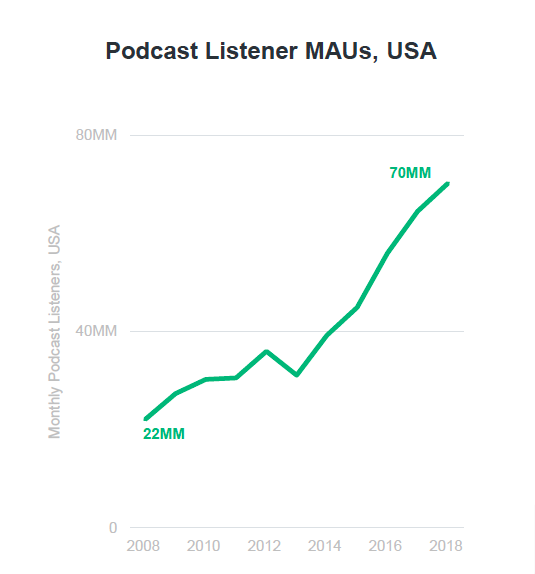 Signals of change: Poland
As far as our native podcast market is concerned, it belongs to those dynamically developing. According to Voxnest, Poland is in the top ten fastest growing markets in the world when it comes to podcast audience. At Spotify, the use of podcasts in Poland increased by 300% over the course of a year – 1/5 of Polish Internet users declare listening to them, which means about several million people. Over 50% of Poles using this medium are people under 30 years old. An interesting fact is that as many as 75% of respondents admitted that they had been listening to them for only a year (after Nielsen). This is the best confirmation that it is still a new medium in our country. Why do Poles listen to podcasts? As many as 53% of respondents do this for educational purposes, declaring their willingness to broaden their horizons.
Podcasts in media and marketing
Almost all major publishers in the world have gone for podcasts, from the NY Times by The Economist to the Wall Street Journal. This turn is also slowly seen on the Polish market – Onet, TOK FM or Burda Media Poland have already decided on their own podcasts. Podcasts are also becoming an increasingly popular channel for reaching brands. Those who quickly understood that branded content is first content and then brand and that the main goal and determinant of creating a good podcast is to provide listeners with valuable materials with an unobtrusive logo of the publisher. In Poland, every month there are more and more valuable podcasts, created by brands or with their significant participation, but to saturate with such programs it is still far away. According to PwC's analysis, global spending on promotion in podcasts in 2019 is expected to exceed USD 1 billion and grow steadily in subsequent years.
Which podcasts do I listen to regularly?
Since I have been implementing a podcast project together with Deloitte Polska for one and a half years (Digital Marketing Update, it is currently in its second season), this topic is very close to my heart. Due to my nomadic lifestyle, I often listen to podcasts (as opposed to audiobooks, listening to which completely does not convince me), and I also talk about the most interesting, new, but also niche titles, still looking for inspiration. I also get many questions about which programs I listen to every day. So I thought that this article is a great opportunity to share the titles I return to regularly. I do not publish my full list because it is about several dozen publications from around the world and still counting.
When it comes to podcasts from our market, there will be no surprise, because they are rather known to everyone. I admit, however, that in the vast majority of them I reach for foreign titles, because there are simply more of them and in almost every topic that interests me at the moment. But back to Poland: Imponderabilia by Karol Paciorek, Polimaty 2 by Radek Kotarski, Marek Jankowski's Little Big Company. And of course listening to my podcast from Deloitte just to know how it came out. A short summary, but I will gladly extend it. I am waiting for your suggestions.
There are many more foreign broadcasts on my list and I usually juggle with them, listening to several episodes in a row, then changing the publisher. However, I also have my iron ten podcasts, which I listen to on a regular basis:
For the weekly story about the latest technological phenomena with a grain of salt. Podcast recorded by the editors of the popular in the USA Digital Trends.
For in-depth analysis of the advertising market – mainly in the US, but sometimes also about the rest of the world. When it comes to podcasts specifically about advertising / creativity in advertising, this is in my opinion one of the best and most professional one. They strongly based on the current edition of their iconic Adweek magazine, so if you do not subscribe it, a podcast can in a sense be a good replacement.
For professional and objective analysis of the impact of developing technologies on our lives and for questioning many temporary fads. A technology podcast created by The Guardian editors.
For combining economic, social and technological topics in an interesting and accessible for listeners podcast.
For talking to authorities in the area of the latest technologies and science. Longer forms, unclichéd questions, not superficial answers.
For the Mike Walsh's consistency – the creator of the podcast, but also a futurologist with very interesting views, author of several books worth reading. Travelling around the world, Mike talks with experts from various fields about the future and changes that are taking place or will come. He has already recorded over 150 conversations.
Malcolm Gladwell in its best form. Is there a need to write something more?
The second of The Guardian podcasts on my list. Broadly about science and the latest developments in this field. From biology by chemistry to physics. Technology also appears here, but there is much less of it here than in the case of Chips With Everything discussed earlier.
A short, several-minute WSJ format about technologies that may or may not revolutionize our lives over the next decades. A great, substantive and very reliable podcast, as befits the WSJ.
Finally, it is worth adding that in Poland, in the area of brands operating on the podcast market, there is still a lot of space – in niches or highly specialized businesses. On the other hand, there are many companies – I even had the opportunity to work with some of them – that have vast knowledge in their industry that could fill this space with valuable material, while strengthening their expert position.
Let me know which podcasts you recommend. What is worth paying attention to?