Time flies – that's what came to my mind when I started writing this text. It seemed to me that I wrote about the previous edition of the Super Bowl at most a few weeks ago, and it's been all year. Let's leave comments to the sports part of the event to the experts and focus on the part of advertising and brand activities related to the campaigns issued during the finals. This is my 5th summary of Super Bowl Commercials in a row and it seems to me that if compared to the last year, it was a bit better, and certainly more variously. The US president has changed, which was also reflected in some of the emitted (or admitted to emissions) ads. Let's have a look at the most interesting events connected with ads worth noting at this year's Big Game.
It is impossible not to note that more and more companies goes beyond promoting their own products, focusing on the topics widely commented on by the public (bearing in mind that the 2016 final was watched by nearly 112 million Americans, it makes sense). This year, several brands have used the purchased airtime during the Super Bowl to speak on socially important and even controversial issues. Audi aired the ad in the tone of "Fempowerment" promoting equality in gender and in wages (now it is considered as one of the best ads this year), Airbnb service starred in the role of defender of diversity, standing up to discrimination (this has to do with the new policy of the company), just like Coca-Cola, returning to its legendary advertising from the final in 2014. This trend includes also controversial and loudly commented advert of the (so far) little-known company, 84 Lumber, but more about it below.
Progress is in every decision we make, every technology we invent, every vehicle we build. It's our past, our future, our reason to exist. Audi of America is committed to equal pay for equal work. A 2016 report by the U.S.
Acceptance starts with all of us. #weaccept SUBSCRIBE: https://www.youtube.com/channel/UCCww-R0oM_CQWXerBcNyKKw?sub_confirmation=1 About Airbnb: Airbnb is a platform that connects people from around the world to incredible places to stay and interesting things to do. Whether an apartment for a night, a castle for a week, or salsa lessons in Havana to help you truly live there.
No Description
This year far fewer campaigns promoted new technologies in the service of man, which does not mean that they were not there at all. I would add that this is one of my favorite types of ads, as well as those that are strong voice on important issues. Ford has put on a great promotion of the Go Further platform which great idea is to facilitate – with regard to environmental issues – broadly understood communication and movement. H&R Block's advertising with Jon Hamm starring in (known from the TV series Mad Men) promotes financial service that allows customers to find additional sources when accounting for tax refund by using cognitive technology based on IBM Watson. This is another application of this supercomputer to solve everyday, common problems.
Less campaigns in this trend do not mean they were unimportant. I believe that the solution offered by Ford (I recommend a deeper read – link above), with all its complexity, may give impetus to change the way of communication in many cities. This is probably the most advanced platform of this kind in the world, perfectly complementary to long-term development strategy of the brand (Ford has publicized it and often mentions it in its communication).
No Description
No Description
Superbowl it is not only a lot of money for airtime, but also restrictions involving the preparation of advertising campaigns. In the past, the NFL many times sent to fix some of the projects, and even completely impeded their emissions. It was no different this year. GNC's spot was not admitted to the projection not because of controversial content, but because of the product itself, which is on the list of products banned by the NFL. The brand learned to suspend the emission 6 days before the Big Game, and decided to make this an ad hoc campaign in their social channels. On the other hand, aforementioned construction company 84 Lumber is now on the lips of thousands of Americans (and not only) because of the campaign on immigration and a sensitive topic of the wall on the US-Mexico border. This company's advert was subjected to editing (previously not allowed), but even in this "euphemized" version it gives you food for thought and does not allow to confuse the issue taken in it with any other. According to me it's a crucial campaign in this year's Super Bowl and a guideline for brands, how they should take the floor on social issues.
The full, uncut 84 Lumber Super Bowl promotional film. See a mother and daughter's symbolic migrant journey towards becoming legal American citizens. Contains content deemed too controversial for the original ad and banned from broadcast.
Don't ever let anyone tell you, you can't change. #CourageToChange See more at: http://www.gnc.com/courage
Every single Super Bowl Final is for brands a chance to experiment with ads that may stand out from the others and gain their popular 15 minutes of fame. This year, two brands have made an attempt to "live" advertising – during the final match (or at least declared so). It did not work out well for them. Hyundai's campaign with a Polish accent in the background (the action takes place in Żagań, where US troops are stationed) was recorded in part during the finals and was broadcast shortly after its end. That was quite good and successful. It's hard to say the same about the Snickers' action and bombastic announcements of 100% live advertising. Not only the same concept has been extremely poor, but also the brand collects very unfavorable comments on the Internet on misleading viewers and customers and building interest around advertising based on not fully correct information. It was weird.
No Description
No Description
I really enjoyed the performance of Lady Gaga in the break, and even more I was fond of the use of 500 drones supported by Intel technology to synchronize them and create unusual illumination. Worth noting is the fact that all their sky-dance for safety reasons and requirements of the FAA (Federal Aviation Administration) was recorded a week before the Super Bowl final. Nevertheless, a very interesting combination of art and technology.
2017 Super Bowl drone footage of Halftime performance by lady Gaga.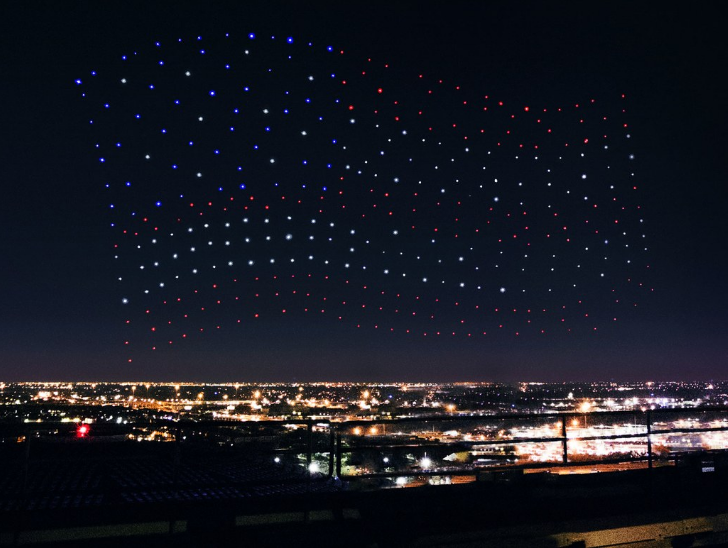 What I perceive as negative is advertising water during such events. Bearing in mind how sensitive is the topic of global access to running, unpolluted water, it is hypocrisy, indecency, and an ordinary waste of $ 5,000,000+ to advertise this product, in addition in the premium category. Ads by Fiji and Life WTR are those the least interesting for me, regardless of the creative aspect of both implementation.
No Description
No Description
Among the brands that can be attached to the Super Bowl without being an official advertiser, Heinz unquestionably stole the show. This company for many years in a row has emitted its ads during the Big Game, however this year it took different, but hit strategy. Instead of investing several million dollars in the Super Bowl, Heinz decided to give a paid day off on Monday after the final match to all of its 42,000 employees in the US. But that is not the end. The brand is trying to collect 100 000 signatures (one million is the main target) on the petition to the Congress for statutory day off called Smunday (always the day after the Super Bowl final). The main arguments for its introduction is the inefficiency of employees on that day (and its impact on the American economy) and the deterioration of social mood (too rapid transition from euphoria to so-called grim reality). A very interesting project, carried out on Change.org. The target almost achieved.
No Description
A complete list of this year's Super Bowl ads can be found here.