Emphasis on creating video content to the network is a trend that every year is clearly gaining momentum. Technological capabilities and the potential of films for wide distribution in the communities make it difficult to find more popular (and desired by viewers) activities taken up by marketers. Video is hot. I mean the content, prepared for publication within Youtube, Vimeo, Facebook etc., but above all streaming live. Periscope, Meerkat, Snapchat (partially), Facebook Live (and big changes that will soon appear within the application), as well as Youtube, which plans to join the game with its application – Connect. The huge competition and race to a platform in the coming years will become streaming number 1. Why this pace? We are looking for the most current information on the topic. Which will therefore be more on time, if not those transmitted live?
If you're wondering how much and "if at all?" in your marketing efforts you should look in the direction of video content, I leave you today with one number, one quote and one graph derived from a fresh survey by Cisco. This information should assist you in choosing the right strategy.
Live video is one of the things I am most excited about because it's so raw and so visceral.
– Mark Zuckerberg. 
By 2020, the amount of content on the Internet in the form of video will increase by 1000% (compared to 2016), which would represent about 3/4 of all the information received on mobile devices. This situation is even better illustrated in the graph below, that shows the speed at which the video takes over increasing proportion of mobile traffic.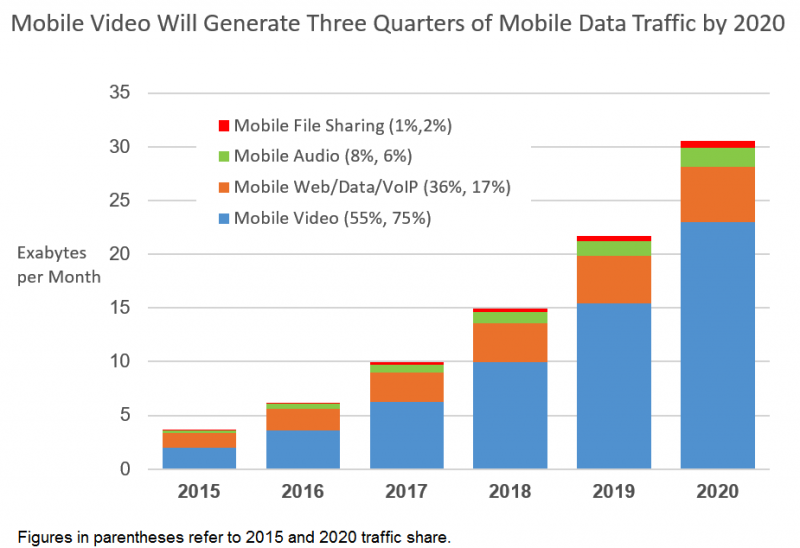 With this dynamic and thanks to mobile technologies and livestreaming trend 'Living in the moment' in the near future can literally mean 'Being in the moment'.