The Telegraph said that Emoji is the fastest growing language in history. You can see a lot of truth in this observation, bearing in mind how easily it penetrated into our daily lives and how often the visual communication is used by people. Almost 92% of Internet users admit to use emoji (see the results below), what proves the dynamic change within our communication.
Lately, I've read the best I have ever had the opportunity to read, as well as very fresh study on the use of popular emoticons. Emogi is its author. I have a feeling that this is the first such comprehensive study that is why I recommend them to you even more (you have to leave your data).
The report provides a lot of important information (useful from the marketer's perspective), and answers to common questions, including those concerning the purpose of and reasons for (over)use of emoji. They appear to be very obvious – visual culture helps us in everyday communication, facilitates the expression and accelerate the exchange of information. Although it seemed to me that I could read the message written in a pictorial way, the test in the article on The Drum dispelled my doubts. It does not change the fact that it is worthwhile to know more about this trend, not to treat the emoji only in the category of funny images transmitted only by a younger generation. That's not entirely true.
How many of us are emoji users?
Many. Some of us use it rarely, others constantly. According to the Emogi study the number of visual communication users fluctuates around 92%.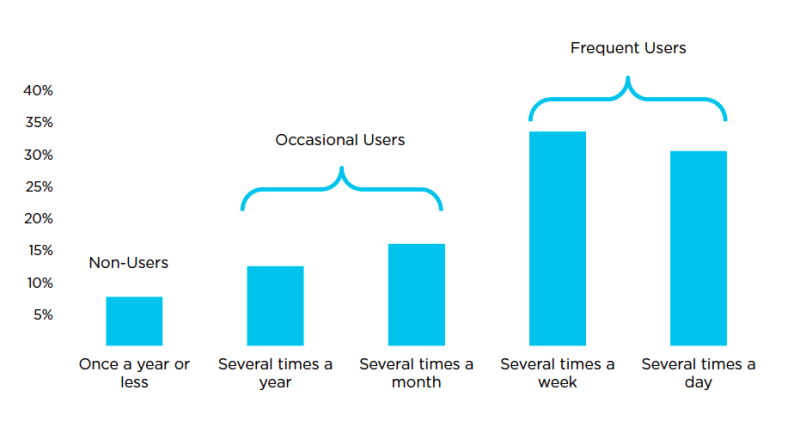 What are the main reasons of using them?
First of all, emoji is for us a way of being better understood as well as the opportunity to create a deeper relationship with someone from the other side. Besides, visual communication is much easier, faster and often expresses better what we would have to describe in words. The popular phrase "a picture is worth a thousand words" aptly defines our relationship to the current culture of communication and the phenomenon of emoji.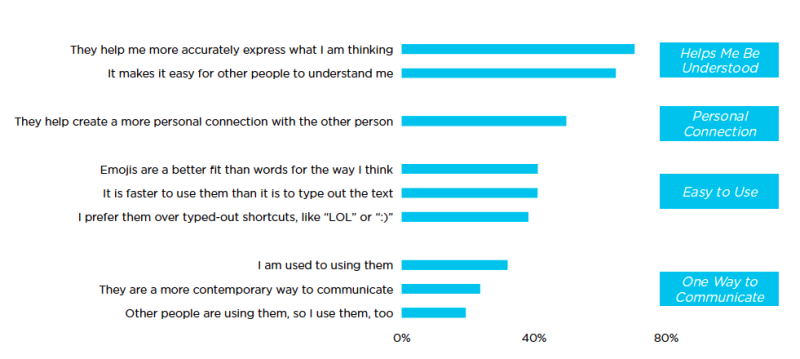 I've already mentioned the changes within our communication, haven't I? So now forget about so popular, and by many so disliked, acronym LOL (Lauging Out Loud), because it also goes into oblivion. We no longer laugh in this way: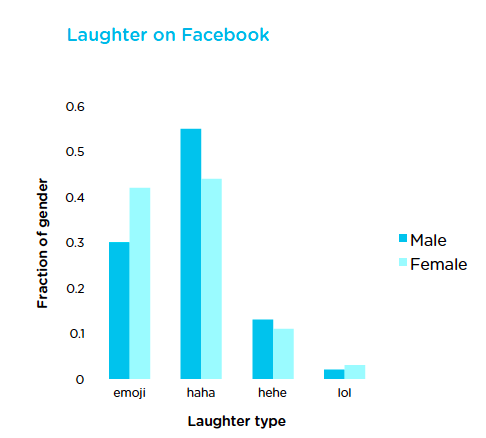 Emoji affect the changes taking place within our language. Of course, mainly within the written language used on the web and in mobile communication. Convenience and a saving of time are reasons why we write shorter and faster. Shortening the message means for us also speeding up the process of communication with another person. This acceleration and simplification looks like this: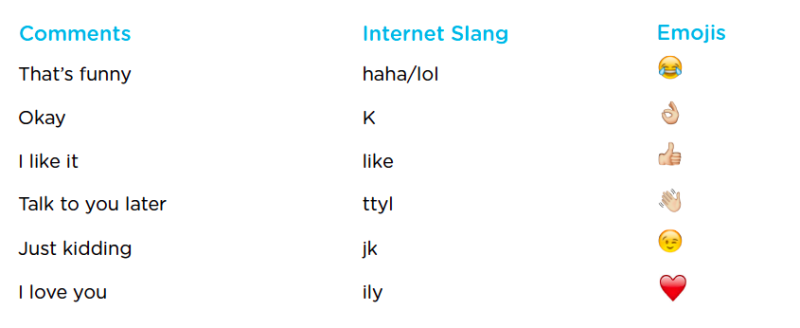 Our way of communication undergoes many changes, so why not to change the language in advertising (or even in politics)? Recently supporting the elements of emoji marketing campaigns is a very popular tactic of many brands. This does not happen without a reason – advertising with their use have a very positive reception among customers. Emotions associated with them can often be described as positive or very positive: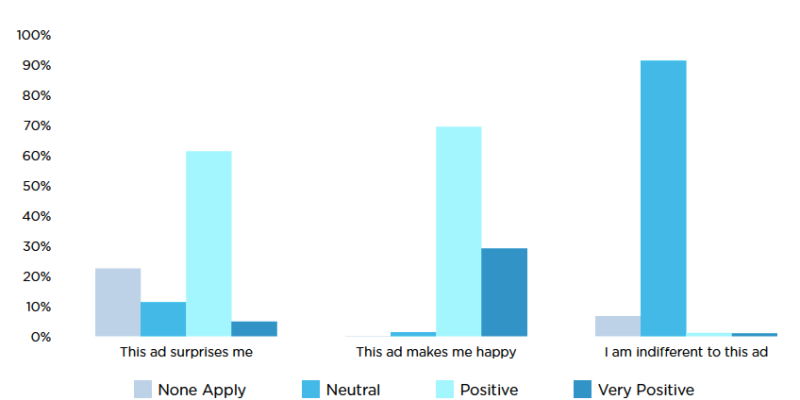 Further data should excite marketers even more. The study shows that users who on interactive advertising react with positive emoji are also closest to the purchase or further recommendations of an advertised product.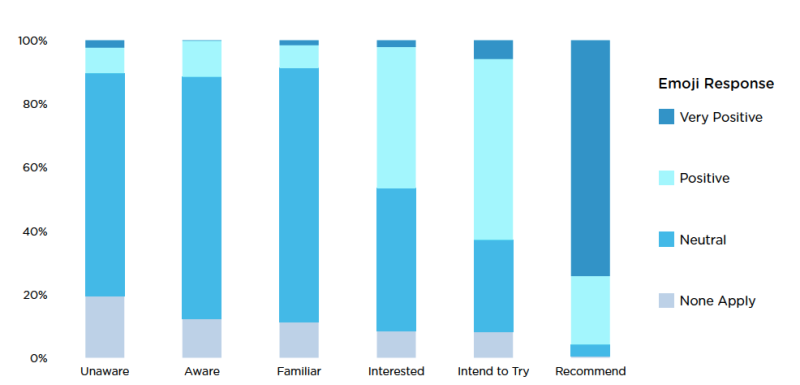 At this point, you could not miss examples of campaigns that use emoji in an interesting way. Browsing these projects you can easily notice how much space is devoted to unconventional actions of pictorial communication. Interestingly, non-profit organizations and initiators of social actions use emoji as often as global brands. 
 
Singtel: Movie Emoji
In my opinion one of the best emoji adaptation. Its ingenuity was also appreciated by the jury of the Cannes Film Festival. Last year the project won the silver.
 
Domino's Pizza: Emoji Ordering
Could there be anything better than ordering pizza via SMS? Yes. Ordering a pizza with one emoji (after registering on the website and connecting your Twitter account). Titanium Grand Prix at Cannes for Domino's for this peculiar ordering system. 
 
WWF: Endangered Emoji
Basic emoji set consists of 17 images of animals threatened with extinction. In this unique way WWF drew attention to the problem of species that may soon cease to exist. How can users help to protect them? check the case study out:
 
Partnership for Drug-Free Kids
Extremely successful and loudly commented in the media all around the world social campaign. It is addressed to the youngest part of the society and the fastest group of people decoding content in the form of emoji. Unfortunately, I had to wait for it a little bit longer as I came across some problems while reading. As you can see, the form of communication perfectly matched to the nature of the recipient.
 
Oreo: Bonding Emoji    
Oreo decided to use emoji in order to strengthen family ties in China.
 
Norwegian Airlines: Las Vegas Emoji URL 
In this regard, followers first had to correctly read the emoji record in the pictures of local celebrities. Then enter a valid website address in order to … end up on the Norwegian website (the final just a little disappointing for me).
 
Intelligent Environments: The world's first Emoji passcode
PIN code would be much more effective if it consisted of emoji? Supposedly.
 
Chevrolet Cruze: Press Release
Chevrolet during the premiere of the new Cruze (the main group of its users are young people) published a curious note press on the subject. Check it out: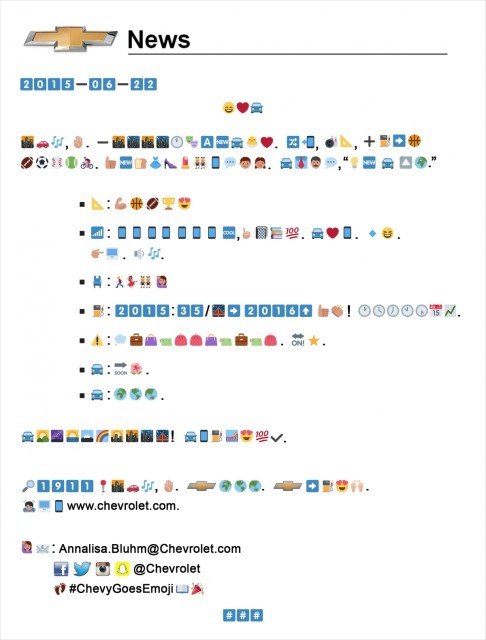 (Who can read it entirely, without prompts from the Internet?).
 
ESPN Emoji Highlights
As it turns out, emoji allows you also to relay the latest sports news. So far, American ESPN leads the way in this field.
 
General Electric
You can also talk about science and developments shaping the world around us. Well done to General Electric for its cycle Emoji Science. Bill Nye the Science Guy, a popular American science promoter, became the project's host.
 
Pepsi "The Proposal"
In the end, emoji enable you also to …. propose. Will it be as unique moments as in a Pepsi commercial? I beg to differ.